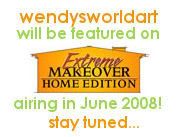 Samples of Logos
Totally custom graphics from both my hand-painted and hand-drawn artwork.
Prices depend on how much detail is involved.
Please refer to custom Graphics page to see what graphics are available to make these logos
All graphics can be purchased for use with web design, template design, business cards, hang-tags, etc.
See Graphics for further information
Below are samples of my previous work scaled down for size: