Home
Recent Customs
Girls Artwork
Boys Artwork
Bow Holders
Hair Bands
Hair Accessories
Room Decor
Wearables
Graphic Design
Boutique Designers

About Me
Contact Me
Place an Order
Join Newsletter
Press
Retailers
The Blog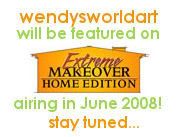 Girls Nursery Art
Please contact me for wholesale price information.

If you are interest in purchasing any of the paintings you see displayed, or custom order created just for your child, please click on the contact page and include painting title and size. I use paypal for payment. Paypal the amount to sales@wendysworldart.com. Please allow 7-14 days for painting to be completed before shipping out.
Nursery Owl/Dove Collection- Click on images above to enlarge
Love this collection- 12x12 paintings in aqua, pink and red, some lime green- gorgeous colors, super cute and whimsical. Personalized. Please email me for more details.
Goodnight TeddyBear
Original painting of a little girl with braids holding on to her teddy bear. She is wearing her nightgown, a sleeping bonnet, and bunny slippers, as she prepares for bed. Her room has shades of yellow, green and pink- similar in nature to that of a PBK room. Personalized initial wall letters in background make up some of the little details in this unique OOAK wall art. Fist letter, Last initial, Middle Initial- 3 letters can be used only. Everything can be customized- hair, eyes, bedding. I varnish all of my art for lasting protection.
Birth Announcement Painting
This is an adorable piece of wall art perfect for any little girl's room. Beautiful sky scene with two butterflies holding up a clothes line of colorful girl's clothes. Below is a withered fence with vines of flowers budding all throughout. Included is a personalization with a date of birth (optional)...can say "Rylie's Room", etc. Matching embellishments border the frame of the canvas. I varnish all of my art for lasting protection.