Home
Recent Customs
Girls Artwork
Boys Artwork
Bow Holders
Hair Bands
Hair Accessories
Room Decor
Wearables
Graphic Design
Boutique Designers

About Me
Contact Me
Place an Order
Join Newsletter
Press
Retailers
The Blog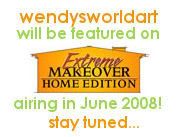 Other Boy Themes
Please contact me for wholesale price information

If you are interest in purchasing any of the paintings you see displayed, or custom order created just for your child, please click on the contact page and include painting title and size. I use paypal for payment. Paypal the amount to sales@wendysworldart.com. Please allow 7-14 days for painting to be completed before shipping out.
Personalized Choo Choo
The background color scheme can be made to match your son's room decor. This adorable painting comes personalized with your engineer's name. Colors can be customized. Varnished for protection.
Surfer Dude Quad- Personalized
Cute surfer painting-complete with a surfer dude, hibiscus flowers, surf shack, and a personalized surf board. I can customize this painting with colors to match any room-girl's or boys (ex. pink, greens, yellow). Varnished for lifelong preservation.
Whimsical Alphabet Art
A unique collection of whimsical things perfect for a little boy. Perfect for a nursery or a gift. Really fun to make as well. Varnished for protection.