Home
Recent Customs
Girls Artwork
Boys Artwork
Bow Holders
Hair Bands
Hair Accessories
Room Decor
Wearables
Graphic Design
Boutique Designers

About Me
Contact Me
Place an Order
Join Newsletter
Press
Retailers
The Blog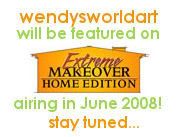 Nursery Themes
Please contact me for wholesale price information

If you are interest in purchasing any of the paintings you see displayed, or custom order created just for your child, please click on the contact page and include painting title and size. I use paypal for payment. Paypal the amount to sales@wendysworldart.com. Please allow 7-14 days for painting to be completed before shipping out.
The Bashful Kitty
This is a painting of an adorbale kitty eyeing his milk and fish. Includes a 4 sectioned themed plus unique brown polkadot border, so no need to frame. Comes ready to hang with either ribbon or saw tooth hanger, including your child's name painted next to the ball of yarn the kitty is playing with. The colors are vibrant and the added cow in the milk bottle adds some whimsical charm to the painting!! All of my artwork is sealed with a protective coating for durability.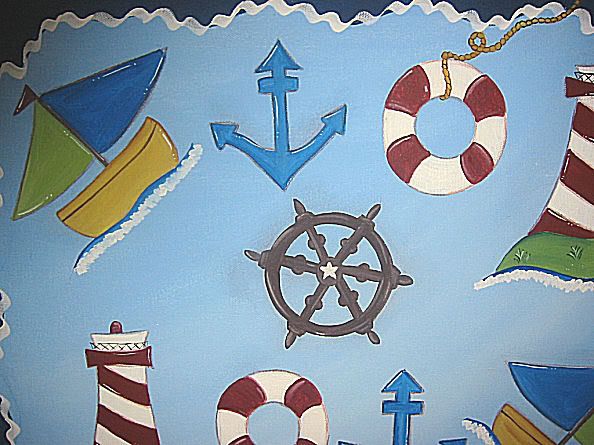 Baby Boats
Perfect for a Nautical Themed Bedroom. This unique painting comes with a unique border and fun details including lighthouses, baby boats, anchors, and the captain's wheel. This is a whimsical nautical theme - Perfect for even a Nursery! This painting is varnished for lifelong protection.
The Whimsical Ark
I love this painting. A ship full of my signiture whimsy animals setting sail on clear waters and skies. I include personalization example: Jonathon's Ark. Varnished for lifelong preservation.